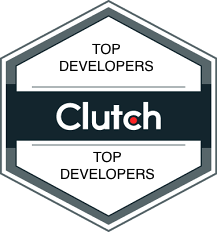 Since day one, the team of software professionals at Navyug Infosolutions has been dedicated to our founding mission and vision. That is, providing value to customers and society as a whole through wisdom, integrity, and technology. We offer a diverse array of services to meet our customer's needs, including web application development, mobile app development, testing services, ERP implementation, consultancy, and technology migration. We've also worked continuously to ensure that the process governing our projects is clear and well-defined. We emphasize process as much as we do product because products alone do not deliver outcomes. That said, we have recently partnered with the B2B market research company, Clutch to ensure that we remain flexible and responsive to our clients.  
The companies featured on Clutch constitute many different segments and span various expertise. All of them, however, are evaluated on the basis of qualitative and quantitative factors, including market presence, portfolio, and the clients they serve. Another valuable and central aspect of their business model are the verified client reviews. An analyst directly conducts interviews with a company's clients, whereby they answer questions related to the scope, cost, and management of the relevant project. The end result is comprehensive and insightful reviews concerning a company's expertise and work ethic in practice.
We're grateful to be a participant on this platform and to be amongst so many reputable companies. Our profile effectively captures the spirit and focus of our business. We also want to thank our clients who have set aside time to share their experiences. Without their diligence, we would not now have evidence of our strengths, as well as feedback that reflects on how we can improve. We recognize the value of these reviews to the growth of our company, and we are already very excited by some of the insights revealed by them.  
The Founder and CEO of Crosscues commented,
"Navyug Infosolutions goes the extra mile in doing the right thing for the customer."
After helping to develop an app, which acts as a network for patients and doctors, called Patient Next Door, the founder also shared with Clutch,
"Navyug Infosolutions didn't view my product from a vendor's standpoint, but rather as something they were building for themselves."
In a world of increasing complexity and emerging technologies, it's more important than ever to make sure that the customer and their overall business objectives are not lost in this capricious social milieu. Partnering with Clutch builds trust and confidence with current clients, as well as prospective buyers. You can confirm this is true by reading some of our other reviews. In the end, if you decide you are looking to the future of your business and prepared to entrust Navyug to achieve your vision, contact us today.