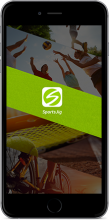 SPORTSJIG
The client set out to create a solution for encouraging people to play more sports. They identified the requirement of a platform which allows sports enthusiasts to find players based on a type of sport.
The client was finding it difficult to find a development partner which had experience of the domain & startups both

The application had to have social networking capabilities along with search capabilities like those in Google Maps
Jigserv Digital partnered with us to build the mobile platform and to provide full-scale development based on defined specifications and first-level design

In addition to the SportsJig app, we also developed the SportsJig Biz app, which is a booking management system for play spaces

They now conduct feature additions and product expansion from us
The user can:
Find & book play spaces near them to play their favorite sport/activity

Discover new sports and activities

Locate events/offers near them and avail the best opportunity

Invite the gang and make play pals

Discover Sports Coaching and Activity Classes near them

Join the Group / Community of the Sport or Activity of their interest

Users can see nearby as well as their friends' activities in the Feed section.
Navyug effectively handles challenges.
Vinay Krishna
The finished app successfully supports the business concept on iOS and Android, attracting positive feedback from initial users.
The application has high rating on Android's Play Store with 4.8/5
Ruby on Rails as backend, EmberJS as frontend, Cordova for mobile application development, Faye for Real Time Messaging, Solr for searching