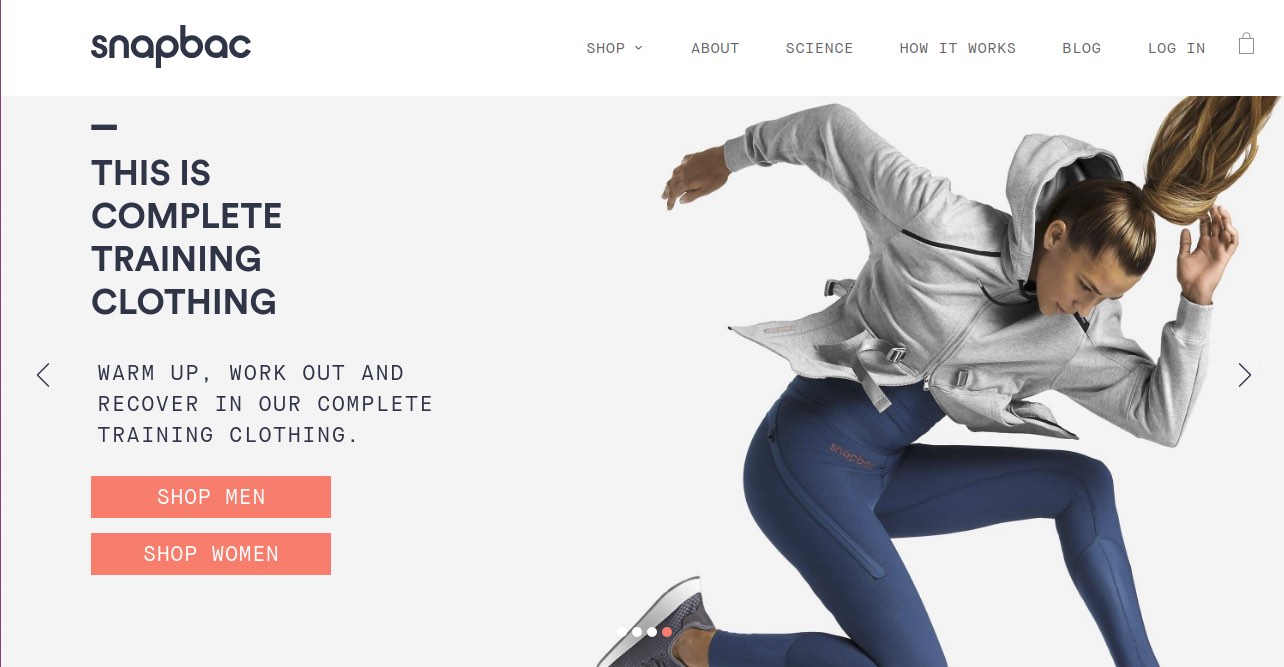 Client Achieved Online Sale
   From Day 1
Steady Sales Growth         Thereafter !
SNAPBAC E-COM WEB APP, SPORTS APPAREL (RoR)
Snapbac, a high profile US start-up, needed speedy development and launch of a stylish E-commerce Web Application, for its customers to browse and shop for the world's first ever Complete Sports Training Clothing. Navyug developed and helped launch the Application on time, with an Attractive design, clear messaging and a smooth Customer Experience. Snapbac was able to achieve sales from Day One.
The Business Owner needed an attention catching e-Commerce shop front for the successful online launch and immediate start of sales, for their new high performance Sports Clothing range.
The Client's expectations from the e-Commerce Web Application were:
* A feature rich application.
* A unique stylish look, to make it stand out from among other similar sites.
* Easy navigation and great customer experience.
* Excellent reporting and Data Analysis to rack Customer experience and performance of sales.
Launch for the Sports Apparel was planned to a tight time-frame, to hit the market exactly at start of the winter season. Any delays would derail the entire marketing effort.
Interaction with business owners

Balsamiq mockups of the solution

Poker Planning

Agile methodology with daily standups, sprints and retrospectives

Test Driven Development

Code and Progress of work shared with Client on Git and Trac

Daily 15 min stand-up with Client, for regular feedback and implementation
The application was completed, tested and deployed before time and Snapbac's products went on sale exactly on time, as per the plan created by the Client's marketing team.
Sales of the Client's products started from Day 1 of the planned winter season.
A great user interface and ease of use ensured great customer engagement.
The Client was able to analyze and act upon customer trends through the reports provided by Navyug.
Navyug Infosolutions Pvt Ltd is an Indian Custom Software Development Company.
We develop:
Web and Mobile Applications (IoS, Android)

Internet of Things Solutions (IoT)

Artificial Intelligence Solutions (AI) 

Technology Migration Services

Testing and DevOps Services
Navyug has developed expertize in Open Source Software and frameworks like Ruby on Rails (ROR), Python, Node.js, Ember.js, Angular.js, React.js, Shopify, Magento, Odoo, etc.
Navyug's clients include companies like NCR (USA), Prime Revenue (USA), Marcs & Clerk (UK), Wipro (India), L&T (India) and many Indian and overseas startups like Car Dekho, TyresNmore, Kapalya, Credihealth, etc.