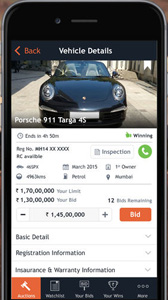 CARDEKHO
The client wanted to build a mobile application for iOS so users could participate in their auctions. Navyug InfoSolutions designed the application which included frontend development and beta testing.
Client: Girnar Software Pvt Ltd
Project:  Frontend iOS App Development for Automotive Company
Before Navyug, the client had approached several other organizations who had quoted a much longer timeline along with a higher price.

The requirements were not exactly thought out in the beginning.

The client already had an android application, although they wanted an iOS application from scratch.
Agile Scrum cycle.
Daily Google Hangout sessions
Held Detailed level Retrospective Discussions after every milestone with the client.
GitLab and Trac used as Source Code Management and Project Management Tools respectively.
Navyug took care of the design, frontend development, and beta testing of the application
The project was delivered within time i.e. 3 months
Navyug Infosolutions provided additional troubleshooting services to the client
The client was deeply appreciative of our design team. They appreciated our understanding of their requirement the clients users'
"I appreciate Navyug InfoSolutions design team. They were understanding of what I wanted to do as well as what our users wanted."
Mr. Animesh Suman
Real time bidding feature for live auctions
Real time notifications updates features so that the user does not miss updates on every single vehicle
Feature to track the status of the item from winning of the bid to delivery
Watchlist' feature to segregate vehicles of your interest
'Your Bids' section to automatically segregate the vehicles
Comprehensive inspection report with photographs from all angles for every single vehicle
TECHNOLOGY
Min ios support 8.0, Swift-2, Airborne Gem for Backend API Validation